Bride's Side Beauty trains with a Hair Styling Guru and Social Media Icon!
On Tuesday July 26th 2016 Lati, from Chicago's Bridal Beauty Salon, came to little ole' Port Royal SC to give us (yes us!) a class in bridal hair styling. This national educator was brought in to advance our already stellar hairstylists thus, becoming even better for our brides and their maids. All of the amazing stylists of Bride's Side Beauty engaged an 8-hour intensive course with this national celebrity – and we are proud to say we are now even more well-trained than before!
Here, at Bride's Side Beauty, we will never cease to learn and grow better for our brides. We know times change, trends shift and brides' tastes are sometimes as volatile as the seasons themselves. But we also know mastering the best techniques in hairstyling will always ensure our brides their hair looks flawless for the big moment they walk down the aisle.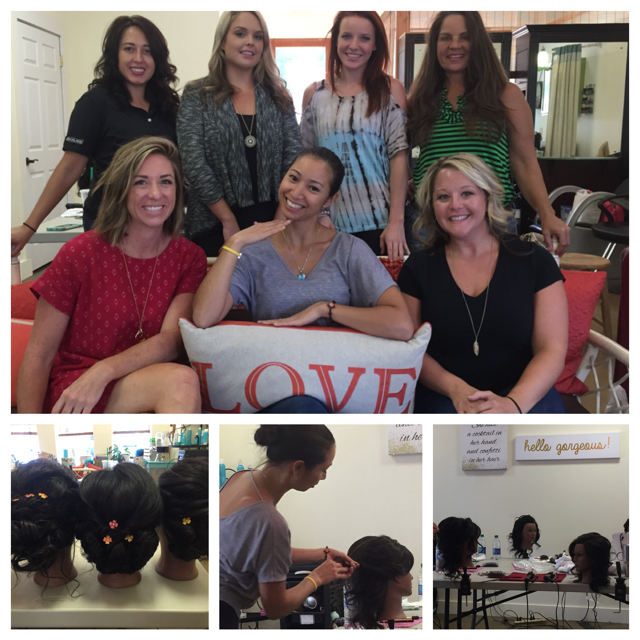 We do everything out of passion for hairstyling, for weddings and, ultimately, for people. We love what we do, and we believe in absolute perfection in every curl we create and in every bun we carefully arrange. We go above and beyond to make our clients happy – and this can be seen in our constant seek for training and learning, as well as in the gorgeous hairstyles we have created for the moment.
Curious to learn more about Bride's Side Beauty? Come visit us, take a look at who we are and what we do, and book us for the most unforgettable day of your entire life! You will never regret this choice! Start here, end here.