By Your Side
In the midst of our re-brand this past spring, I got to thinking about how else we could improve. What else could we do for our lovely Brides? How else could we make their day even better? With all of our experience, there must be something else we could bring to the table. Why leave after we finish hair and makeup when we could stay and help? We could assist the Bride and her party with all things wedding, not just makeup and hair. After all, we have been a part of over 350 weddings, that experience could be so helpful! And that is why the By Your Side package was created, which is now our most popular service. Before the unveiling I made certain my team was fully trained and ready to assist the Bride in all things wedding. I got the BSB team together and we trained with the experts in the area of male styling like tying ties and bow ties and folding pocket squares. We met with a gown expert to learn how to bustle and fasten all types of gowns. We met with a floral expert to learn how to put together and pin a boutonniere as well as what to do if the bouquets needs help. I wanted my team to know it all so that we could better serve a bride.
With a By your side package we can help with just about any task. For instance, cleaning up the getting ready location, pouring and serving drinks, popping champagne, zipping gowns, running a quick errand, and of course, touch ups of hair and makeup as well a second look for the bride for the reception.
Really anything needed to make the day more enjoyable is what we'll do.
On August 22, 2015 we completed our first By Your Side Package with Meghan Gagorik. Here is our story-.
From the makeup artsit-"I tell Brides, when you book a by your side package you are really booking hair, makeup and personal assistants for the day. And that is exactly what Meghan got! After the hair and makeup services were completed Meghan went for her first look while we stayed back and cleaned up the cottage and prepared for the on site activity. After the first look, Erica and I were waiting there to tend to whatever she needed. At that time, it was drinks! So, Erica and I went to a nearby bar and gathered each girl her drink of choice and delivered it promptly. It was at about that time that a huge storm blew in and reaped havoc on the couple's outdoor cocktail set up. While the wedding planner quickly orchestrated plan B, we stayed by the Bride's side. Erica re-curled everyone's hair, I touched up makeup, and we all shared our stories of rain on our wedding day (well in my case it was a blizzard), we even went to fetch 5 umbrellas for the party so they could walk covered to the chapel. Once the storm died down, we then held the Brides dress all the way to the chapel to avoid soiling the bottom of the gown. After the wedding we saw the Bride again for quick second look change of hair and makeup before heading to her reception. During the look change we gave her and her bouquet a much-needed drink of water. We hugged goodbye, and mutually agreed that parting at this point was difficult. After all, we had been by her side all day!! On my way home, I felt such joy in a job well done and gratified that I had made the right decision in offering this unique service to our Brides. We are honored to be By Your Side!" – Jessica Shefsick, Makeup Artist and owner of Brides Side Beauty

From the hair stylist- "Today was a great day! I got to spend the full day with my bride and her wedding party and let me just say it's awesome to be such a special part of a brides day. It poured rain and then the sun came out right as they exchanged vows, I couldn't help but be happy for her. What was even better was when I did her second look for her hair, she teared up saying her now husbands parents passed away during the wedding planning, and then a huge vibrant rainbow appeared right beside them as they took their pictures. They couldn't help but feel his parent's presence with them on their special day. God is good all of the time! Thank you for allowing me to be a part of your special day" - Erica Reynolds, Hair Stylist for BSB
From the Bride- "Absolutely wonderful in every way!! I loved all of mine and my girls' hair and makeup. Jessica and Erica were so kind and sweet. I loved spending such an important day with such great people. I was actually sad when I was going into reception and they were leaving because I felt like they were such an important part of everything that day. Thank you so much for being by this bride's side."
– Meghan Gagorik, Bride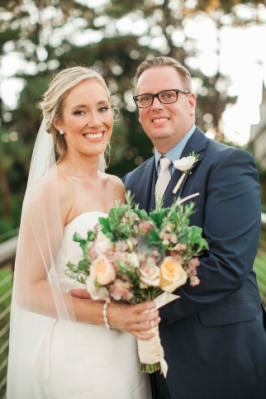 Special thanks to Ashley Seawell Photography for these beautiful images www.ashleyseawellphotography.com