Guide To Getting Ready
As a seasoned wedding professional with over 450 weddings now under my belt, I'm proud to say I've learned a few things over the years. And since most of you are doing this "wedding thing" for the very first time, I would love to give you some advice that only comes from experience. As a makeup artist, my expertise is in the "getting ready" portion of wedding the day. Sure, everyone knows the order of operations for the wedding; walk down the aisle, get hitched, celebrate and make a grand exit. But what happens before all that fabulousness? Here is my advice for how it should all go down.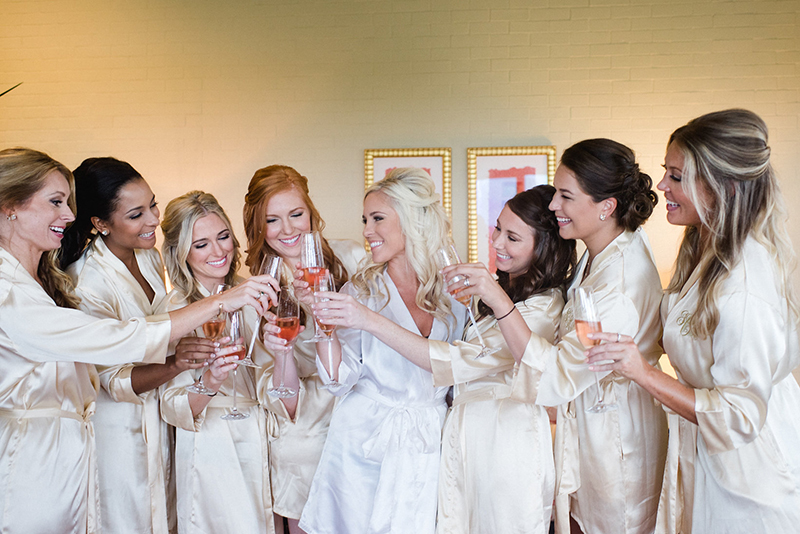 Ladies (assuming you will be getting ready with your wedding party in one location prior to the wedding)
Have plenty of food and drink. If you're getting married in the early afternoon plan to have breakfast available for the party. If it's an evening wedding , be sure to have lunch available. Either make the food ahead of time or have the food catered in. DO NOT ATTEMPT TO COOK! Too messy, too much commotion, and too stressful. Do have light cocktails available for those who want to settle nerves and make sure everyone is drinking plenty of water. (Insider Tip: Offering food and drink to the wedding vendors that are hard at work, is always appreciated).
Hire a professional makeup and hair team! Not only will you look amazing, but have you ever thought about a bunch of ladies all trying to squeeze into one bathroom to use the mirror and curling irons? Yeah, not pretty. In fact, when I got married, all of my bridesmaids were using the only mirror in our one bed one bath apartment, while I was in the kitchen using my compact to do my own makeup (try applying false lashes with an one inch mirror). In hiring a team for makeup and hair you and your Bridal party can be getting ready simultaneously while others chat, eat, and tend to last minute details. Not only that, but since professionals come with everything that's needed to make you look your very best, your party won't have to bring their luggage to where you'll be getting ready. (Insider Tip: Your hired professionals have trade secrets to help keep you looking great all the way to the grand exit.)
While the hair and makeup is taking place, think about having something to do for your party while they're waiting. Have magazines laying around and/or show a classic romantic comedy in the background. You know, the one you and your girls know by heart. (Insider Tip: I find having a room full of people with nothing to do, brings up the anxiety level. You want people feeling relaxed, not pacing the floor). And speaking of relaxed, be sure if you choose to have music in the background, it's something fairly relaxing as well. Not that you need to play spa music, but please, no techno or loud high energy dance music. While this may seem fun, it increases the energy level which can lead to anxiety. You will have plenty of time to dance later. It's a long day, lets pace ourselves.
To know when you should start getting ready you need your dressed and ready time, which usually comes from your photographer or wedding planner. Makeup is the last thing you do before putting on your gown. For example, if your ready time is 4:00, you will start makeup at 3:00 and count backwards from there to get your start time.
If you and your fiancé plan to give gifts or cards prior to the ceremony, please plan on exchanging in the morning or before makeup at least. You wouldn't want to cry after hair and makeup, or have puffy eyes walking down the aisle. Food for thought.
And last but certainly not least, my most favorite tip of all: Spend a few moments with your Dad or the person you chose to give you away. Chances are he has graciously hosted the event, and sadly he is usually the one who gets the least of your attention. Find time before the ceremony to tell him how you feel, you won't regret it. (Insider Tip: Tell your photographer ahead of time, Kodak that moment!)
Men
Eat, s#*!, shower and shave. Start this process about 30 minutes before "suiting up". That's it! Ahhh.... to be a man.
I feel so honored that I get one on one time with the Bride right before she walks down the aisle. And I will tell you what I tell each Bride that sits in my chair who is just minutes away from starting the wedding of her dreams. Sit, Relax, Reflect and Breathe.
Much Love! -Jess