Karina Smirnoff comes to Bluffton!
Author: | Photographer: Krisztian Lonyai
As we gather at The Fred Astaire Dance Studios in Bluffton, there is a feeling of excitement in the air. It is 8 p.m. on a Friday, and we are poised to photograph the Ukrainian-born American dancer and five-time U.S. National Ballroom Champion, Karina Smirnoff, for a fashion spread in CH2 magazine.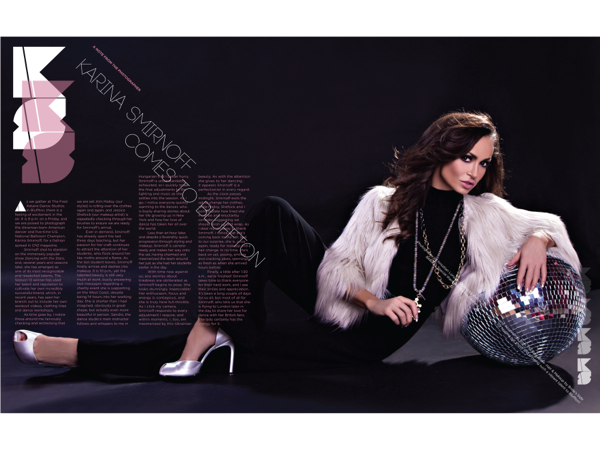 Smirnoff shot to stardom on the immensely popular show Dancing with the Stars, and, several years and seasons later, she has emerged as one of its most recognizable and respected talents. The Season-13 winner has used her talent and reputation to cultivate her own incredibly successful brand, which, in recent years, has seen her branch out to include her own workout videos, clothing lines and dance workshops.
As time goes by, I notice those around me nervously checking and rechecking that we are set. Kim Malloy (our stylist) is rolling over the clothes again and again, and Jessica Shefsick (our makeup artist) is repeatedly checking through her brushes to ensure we are ready for Smirnoff's arrival.
Ever in demand, Smirnoff has already spent the last three days teaching, but her passion for her craft continues to attract the attention of her students, who flock around her like moths around a flame. As the last student leaves, Smirnoff finally arrives and dashes into makeup. It is 10 p.m., yet the talented beauty is still very much at work, busily answering text messages regarding a charity event she is supporting on the West Coast, despite being 14 hours into her working day. She is shorter than I had imagined, obviously in great shape, but actually even more beautiful in person. Sandro, the dance studio's main instructor follows and whispers to me in Hungarian that I better hurry. Smirnoff is understandably exhausted, so I quickly make the final adjustments to the lighting and music as she settles into the session. As I go, I notice everyone quickly warming to the dancer, who is busily sharing stories about her life growing up in New York and how her love of dance has taken her all over the world.
Less than an hour later, and despite a feverishly quick progression through styling and makeup, Smirnoff is camera-ready and makes her way onto the set, having charmed and mesmerized the team around her just as she had her students earlier in the day.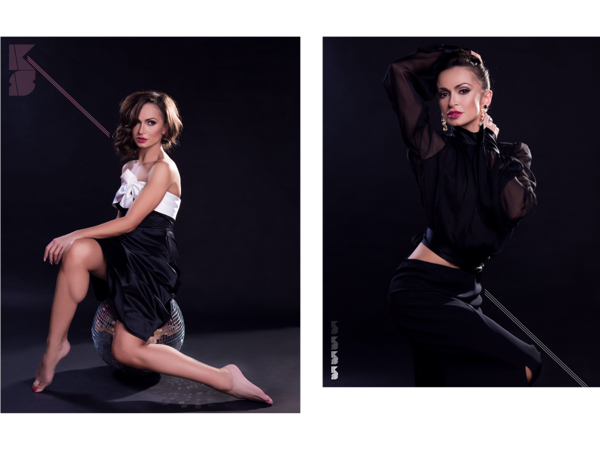 With time now against us, any worries about tiredness are obliterated as Smirnoff begins to pose. She looks stunningly impeccable! Her enthusiasm, focus and energy is contagious, and she is truly here full-throttle. As I click my camera, Smirnoff responds to every adjustment I require, and within moments, I, too, am mesmerized by this Ukrainian beauty. As with the attention she gives to her dancing, it appears Smirnoff is a perfectionist in every regard.
As the clock passes midnight, Smirnoff exits the set to change her clothes, while Malloy, Shefsick and I contemplate how tired she must be and reluctantly consider suggesting we should finish up and wrap. As I steal myself away to thank Smirnoff, I notice that she's coming back to the set; and to our surprise, she is, once again, ready for makeup and a hair change. In no time, she's back on set, posing, smiling and cracking jokes, seemingly as fresh as when she arrived hours before.
Finally, a little after 1:30 a.m., we're finished! Smirnoff takes time to thank everyone for their hard work, and I see their smiles and appreciation. It's been a long couple of days for us all, but most of all for Smirnoff, who tells us that she is flying to London later in the day to share her love for dance with her British fans. The lady certainly has the energy for it.